Republic's Fall Rally Ride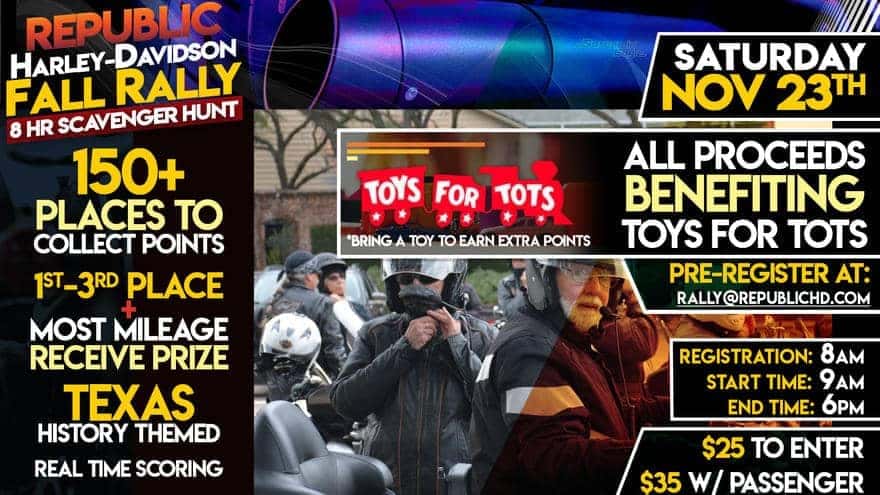 Welcome to the 2019 Republic Harley Davidson Fall Rally!
What is a "Rally"?
Simply put, a rally ride is a type of scavenger hunt. You will be given a list of over 150 bonuses to choose from. You will be tasked with picking your own route and take pictures of various places or objects. DO NOT think you can make it to every place, you can't! This is a timed event where you are on your own. Each bonus is worth a different amount of points based on how far away it is or how bad the Rallymaster wants you to go there. The person with the most points at the end wins. This is not a group ride. You decide your own route. This ride is designed to test your routing, riding, and comprehension skills! There is no "right way" or specific path to take. It's 100% up to you to make your own route based on what you feel will get you the most points possible in the allotted time. The bonus locations you will be given will have the coordinates listed that should put you very close to the actual item you need to photograph. Keep an eye out as some are not exact, you will have to look for them.
You will be given a complete list of coordinates in Excel, a GPX file with all of them listed, and a brief writeup of each bonus spot with the exact picture you need to take. Basecamp and Google maps are probably the 2 most commonly used routing tool, but feel free to use whatever you're comfortable with to get you routed to the bonuses of your choosing. This is NOT a race! There are no points for most mileage (although there is a prize) or arriving at the finish line first. This is simply a timed event to see who can collect the most points in the time allotted.
Once you receive the rally package, which will be sent a couple days before the ride, feel free to ask any questions if something is not clear. THERE ARE NO DUMB QUESTIONS. Not only are there points for each bonus location, there will also be points for getting a certain number of points or a certain combination of various points. You will be given a RALLY FLAG at the start that MUST be in every picture. Again, this rally flag must be in every picture or the points will not count (trust me, this happens all the time in rallies)!
Again, feel free to ask any questions as we want this to be a fun ride for all. Below is a few FAQ I've put together of some the most asked rally questions.