Charity Chili Cook-Off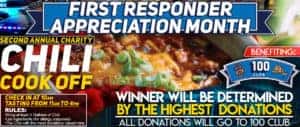 We appreciate our First Responders, for our 2020 Chili Cook-Off we will be raising money to benefit the 100 Club of Houston!
To sign up your team, contact Brittany by phone (281)295-1000 or email at bmierzwa@republichd.com
We ask that you bring 5 gallons of chili pre-made. You are welcome to bring sides or add-ons such as crackers, cheese, sour cream etc.
How to VOTE: We ask our participants to vote with dollars! Bring your friends and vote for your CHILI! Republic Harley-Davidson will match each chili donations up to $500 per team.